About iCreating
We are a LED lighting company specializing in LED light strips and Accessories. We have been in business since 2010. Our goal is to supply the latest performing LED products for your next project at an equitable price. We are not just supplying LED lights, but also providing LED lighting solutions for both residential and commercial customers.
Many retailers charge up to 3x the original cost of products by the time they sell them to you due to unnecessary markups and steps in the supply chain. We cut out those steps and markups and pass those savings on to you.
HOW WE DI IT
Icreating works directly with only the best factories in the world, cutting out middleman and brands,
so our customers are able to buy beautiful, ethically made products at up to 40% less than traditional retailers.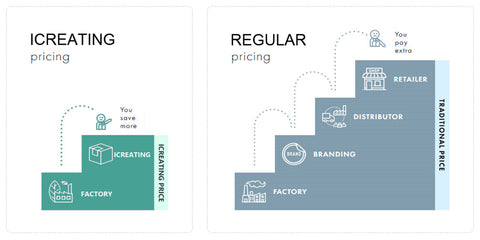 We spent spent months choosing the best materials for our products and producing them in our own factory. With iCreating you can trust you're getting the best quality and the best prices every time you shop.
We appreciate your business and feedback. If you have questions or suggestions please email us at Support@iCreatingDirect.com